Reflections
I got hijacked away from that flight from Chicago Midway on Capital Airlines--flying over Lake Michigan, headed toward that Michigan shore.
Rock and roll is loudly and deconstructively blaring away from the swells in the penthouse of my building. Rock and roll is not at all what I thought I would one day be. Back in the days of real rock & roll I used assumed the best rock and roll would emerge out of dudes like Buddy Holly, a fellow Texas boy, from Lubbock, high plains white trash and scarecrow hillbillies and Buddy started out trying to play country & western high plains white trash style but it didn't work. We heard too much black music coming out of the big 50,000-watt radio stations in Nashville, in Shreveport, Louisiana (Lawsbanana), in Chicago, and in the
La Frontera
Mexican 100,000-watt jobs (illegal to be that high-powered in the US of A--50,000-watt limit--because of market invasion--I mean, we's'a capitalist country--come on, folks to really get into that kind of country & western so we invented white rock--and Buddy was one of the first ones I ever heard out in my neck of the woods playing that kind of rock--and then along came Roy Orbison from Wink, Texas, on further out on the lone prairie even from my hometown--these high plains drifting white boys in far West Texas blending black rock with Bing Crosby-like crooning--hell it fit ridin' in a Corvette all day--F horses and saddles like those cowpunchin' hillbillies wanted to hear.
Buddy's kind of rock was devil's music. Yes it was. It was kind'a N-word music, too, but hell the little hillbilly daughters and sons liked it--they loved it--"Peggy Sue"--hell nearly every other girl out in that part of the world was named Peggy Sue--"Maybe Baby"--Buddy had a nice little spin on his music--I actually liked old Buddy. He later wrote some damn fine tunes--but they were too culturally evolved for the rock base--the dumbass revoltin' little spoiled white brats who wanted a revolution but they didn't know how to do anything without daddy and mommy's support though they claimed they were distancing themselves from them.
Poor little dumbass white kids--the racist recording industry gave them the British Invasion and damn there was nothing N-word at all about the precious Fab 4 and the minstrelsy Rolling Stones.
I'm listening to jazz tonight--it blots out the stupid noise rock--guitar players--I'm beginning to despise guitar players. They're all the same; they all play the same licks; they all look the same; there's always one who jerks and jumps and spins--shit, that's just like the stupid rockers did when I was making a mockery of Led Zep and the Clash--ugh, what NOISE--and with too thick a Brit accent for me.
I'm listening to Curtis Fuller (WHO?--that's OK, I know who he is)--it's his group, with Tommy Flanagan on piano, Ray Drummond--an M-F-er on bass, Al Harewood on drums (classy), and good old Benny "Along Came Betty" Golson on tenor. 1993. They could all be dead by now; I know Tommy Flanagan is--but I don't know about the others. Funny how I've managed to stay true to jazz for as long as I can remember. No other music ever clasped me to it like jazz did--it's running through my veins by this time in life. I'm on a 4/4 clock.
I'm a little manic tonight, sorry.
thediscontinuedgrowlingwolf
for
The Daily Growler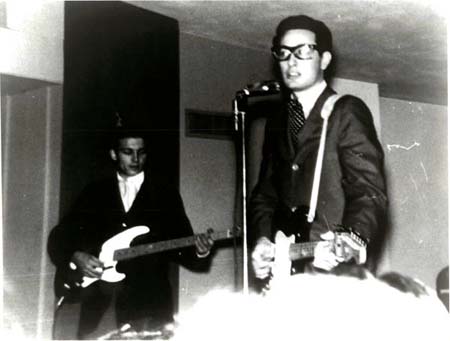 Buddy Holly and Waylon Jennings, two Lubbock, Texas, good ole boys who invented white rock and roll.