Thanks to languagehat's Post Today www.languagehat.com
We're Celebrating the Hats Worn By Some of Our Fav Folks

The Prez--one of the very greatest individual jazz stylists ever in his signature porkpie hat.
Alex "Rice" Miller, Sonny Boy Williamson #2. A proponent of the derby and the bowler hat.
Another pose--from the
Final Sessions
album.
John Lee Williamson, the original Sonny Boy Williamson, looking snazzy in damn fine hat and a double-breasted suit.
Henry Miller in 1938, at the Cosmococcic Telegraph Co.
You never saw Jimmy Joyce without a cap or hat.
Nope, you never saw Jimmy Joyce without a hat. Here he is wearing a fedora in 1938.
Rahsaan Roland Kirk was a hat man; a top hat here.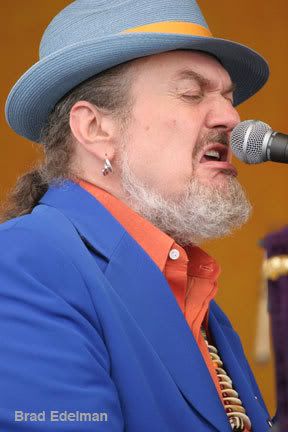 And Mac Rebenack is a hat man--wow, his hat matches his coat and his hatband matches his shirt. That's one-time wear, isn't it? Nice bein' rich if you're a hat man.
Yep, Al Capone was a hat man. He was bald under that hat so it seldom came off; not even when he whacked some deserving stoolie.
Ernest Dale Tubb of Crisp, Texas, was a hat man. Said he felt naked without it.
Charlie Ives, the world's greatest composer, was a hat man; he, too, was bald under that hat.
And W.C. Fields was a man of many hats. A half-topper like he's wearing here was always a part of his juggling act--he juggled cigar boxes and threw the hat in all the time among the cigar boxes as though it accidentally got trapped in the circling cigar boxes--at one time Fields was said to be the world's finest juggler.
Bud Abbott and Lou Costello used hats as devices in many of their routines--the Susquehanna Hat Company routine for instance where Lou Costello destroys at least 12 or 13 straw boaters (prop hats I guess though they looked real) during the routine.
I had an aunt named Hattie Lee.
thehatlessgrowlingwolf
for
The Daily Growler (not to be mistaken for The Daily Bowler)

Hat Men, a Hat Pig, and a Famous Hatted Babe We Overlooked:
Slammin' Sammy Snead, for instance. How could we have forgotten Sam Snead? Later he wore a certain kind of summer straw with a certain kind of wildish hatband that became synonymous with him.
"Yoo-Hoo, it's me, Pinky Lee." And how the hell could we have forgotten the great Pinky Lee? Pinky was pretty wild during his kiddy act and a part of it was he jumped up and down sort'a nonstop--until while doing one show, the Pink Man jumped for his last time--he had a massive coronary--and there went Pinky off to Kiddy Clown Heaven--John Wayne Gacey's up there, too. Pinky's character was the prototype for Soupy Sales and later Peewee "the Wanker" Herman.
Willie "the Lion" Smith always had his derby on.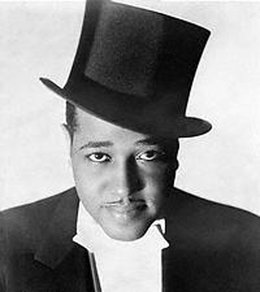 And this famous photo of the Duke in a topper.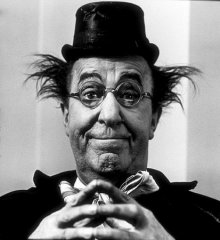 Ed Wynn the old vaudeville comic used this silly hat in most of his routines.
We remember Porky Pig wearing a lot of hats in his cartoons.
And last but not least, the hat made famous by Madame Matisse.
Our hats are over our hearts.
thestaff
for
The Daily Growler