A Daily Growler Bulletin Regarding Terry Pollard
R Johnson- Terry Pollards cousin said...

***********PRESS RELEASE***********


FOR IMMEDIATE RELEASE Contact: Gary S. Pollard
December 16, 2009 (313) 399-6651 or
Dennis Michael Weeden
(347) 221-1124


TERRY POLLARD, DETROIT-BORN JAZZ PIANIST SUCCUMBS TO LONG ILLNESS
August 15, 1931 – December 16, 2009

DETROIT – It is with great sadness the Pollard family announces the passing of storied jazz pianist Terry Jean Pollard. The 78-year-old musician died early this morning in The Bronx, New York, after battling a long sickness. She leaves to cherish her memory one son, Dennis Michael Weeden; a daughter, Corby Marlene Swindle and their families as well as a host of friends, fellow musicians, and admirers.

Terry began her professional career in Detroit at the age of 16. She was part of the very fertile Detroit Jazz scene in the late forty's and early fifty's performing on piano with many of the major up and coming players. Terry's first recordings were with Billy Mitchell in 1948. She worked with Johnny Hill from 1948 - 1949, the Emmit Slay Trio from 1950 - 1952 and regularly worked with Billy Mitchell from 1952 - 1953.

It was during this time she was discovered at Baker's Keyboard Lounge by noted vibist Terry Gibbs. He was mesmerized by her skills and asked her to join his North American tour. Terry accepted and became a member of the Terry Gibbs Quartet where she played piano and second vibes. Her greatest visibility was from this period of 1953 - 1957. It was then that she recorded many songs with Gibbs and Dick Garcia.



Terry won a recording contract with Bethlehem Records and recorded one solo album – a self-entitled release – in 1955. She also performed with the Jimmy Wilkins Orchestra, John Coltrane, Charlie Parker, Miles Davis, Chet Baker, Nat King Cole, Dinah Washington, Duke Ellington, Ella Fitzgerald and many others. She won the prestigious 1956 Downbeat Magazine New Artist award defeating the great Milt Jackson. She performed at the famous Birdland Stars of 57' concert in New York City. Terry also made American television history appearing with Terry Gibbs on the famous Tonight Show then hosted by Steve Allen.

At this apex in her career, Terry decided to return to Detroit to raise her family. She performed and recorded with local artists Yusef Lateef and Dorothy Ashby from 1958 - 1960. Terry also performed there with saxophonist George Benson, Alma Smith, Will Austin, Bert Myrick, Diana Ross & The Supremes, Earl Klugh and many others. She won numerous awards during her successful career and was inducted into the Michigan Jazz Hall of Fame as a lifetime member. She held a 60-year-membership with the Detroit Federation of Musicians Local 5 in Southfield. Most recently, she was featured in a book, "Before Motown: A History of Jazz in Detroit," by Lars Bjorn and Jim Gallert.

Terry was a female jazz pioneer. She was a very huge part of the Detroit jazz music scene as well as of being part of American jazz history. She was an enthusiastic cheerleader and tireless Jazz supporter who told others she was from "The home of the pros in Detroit."

Her nephew, Gary S. Pollard, a Wayne State University Governor, said, "We will miss Aunt Terry deeply and will remember her with lasting affection, appreciation, and respect."

###

Funeral arrangements are incomplete
This relates to
The Daily Growler
post:
the-daily-growler.blogspot.com/2009/11/looking-backwards-at-jazz.html

Foto by tgw, "Night street-level shot without flash," New York City, 2009.
----------------------------------------------------------------------------------------
The First Long-playing Records
Ah when they were called "records." Recordings of the music of the passing times. Storage disks in which a culture could be detained. Everything has to be in disk shape; circular like the universe--circular patterns, always turning, revolving. Revolutions per minute. 78 revolutions per minute; about the same as the human heartbeat.
Give ole Tom Edison some dues for inventing the phonograph and disks to play on them (which came first, the disk or the player?). The first sounds recorded were recorded on cylinders (circular) covered with thin strips of rolled metal onto which a cutting device cut the sound grooves into those strips via the artist playing into a huge bell which funneled the sound down into the cutting diamond which transfered them onto the metal on the cylinder where they were then played back reproduced through the bells of Edison cylinder-playing machines. The first cylinder recording I ever heard was on a classical music radio station way back in the "when." It was a recording of Brahms playing one of his piano pieces. Before he plays the piano, he introduces himself in a gruff-gruff voice as though he was mad at the world. As a neophyte music listener I sat amazed. Wow, that was Johannes Brahms in person, I thought to myself, and that's him playing the piano in person, too--his playing as gruff as his voice--you could hear him breathing while playing, or at least I wide-eyed imagined I could. I mean think of it, recordings gave me the pleasure of hearing Johannes Brahms playing the piano IN PERSON, alive, real, and though crackly and fading into the time-gulped-up past, still it is Brahms still alive, still speaking, and then still playing the piano and breathing with life as he plays. The reincarnation of Johannes Brahms on a piece of tinfoil.
At the moment I'm checking out a new edition to my 78 rpm record collection. It just came in the mail. It's a 10-inch 78. The first-ever extended-play records. Pop 78s were 7-inch disks, or "platters," as they were called by the D-jays of the day. They only lasted around 3 minutes and a few seconds at their longest. 10-inchers could last another minute or two.
This long-playing shellac I just got is Commodore #1502, recorded in New York City in December of 1938. It's the reincarnated Leon "Chu" Berry leading a group called on the label "Chu Berry and His 'Little Jazz' Ensemble"--side one is "Stardust" and side two is "Body & Soul." I catch myself sitting here thinking I could be the only person in the whole world listening to Commodore #1502 as I go about my daily fun. It's called "Chu Berry and His 'Little Jazz' Ensemble" because of Roy Eldridge being on the record and identified as "Little Jazz, trumpet." I assume Roy was contracted to another label so they couldn't use his name so they used his nickname, Little Jazz, who every jazz lover knew was Roy Eldridge anyway. A lot of musicians used to use aliases because of contractual obligations. Like Nat "King" Cole recorded under several aliases, one being A. Guy (on a Lester Young recording); another being Lord Calvert (on a Willie Smith recording).
After I cleaned the old record off, it was pretty dirty, looked like it maybe had been in a flood--it came from down south so who knows, but after I cleaned it up and put it on the Califone and set the needle in the groove, then there these wonders of the old jazz world were, in person, Chu, Little Jazz, the long-lost-in-the-dusts-of-time great Clyde Hart on the piano--"Stardust" first--played weirdly in an other-world approach. It took me a minute to pick up that "Stardust" melody. Chu had a way of shifting melodies in and out of complicated lines a la Coleman Hawkins, definitely Chu's idol and mentor--Chu holding on to that old timey quavering in his blowing that Hawkins overcame after he came back from living 4-plus years in England and France. Chu died before he had a chance to develop his style--to take it somewhat on a slant outside of Hawkins's wide domain.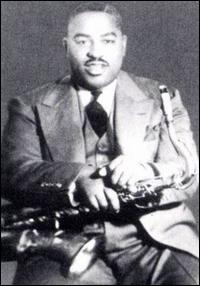 Leon "Chu" Berry
The first time I heard Chu was on a Lionel Hampton RCA Victor LP called "Hot Mallets." This was an LP rerelease of 78 recordings Lionel Hampton made for Victor in the late 30s and early 40s using members of the Basie, Ellington, Calloway, and his own bands. Chu was in the Cab Calloway band along with Dizzy Gillespie. Dizzy's on this album, too, and on the tune "Hot Mallets," Diz takes his first-ever recorded solo. I bought this album before I had a record player to play it on. Chu's feature on this album is his own tune called "Hollywood Shuffle." Ohhh, what a cool tune. A little off-minor that truly is a true shuffle--shufflin' off to Hollywood.
Now I've got a small rack of Chu's Commodores over in my record corner.
Almost bought a rare photo of Isadora Duncan and her Russian lover, Illych (sic). It was in Israel however and the shipping from Israel to over here is expensive--plus the item was selling in British pounds so I pulled out of the bidding. I'm getting into old photographs now. They go quite well with the old recordings. Jesus, I'm like the guy in that old novel
The Collector
--how quickly I forget popular writers--John Knowles comes to mind. I mean with Google you don't have to go through that old way of when you couldn't remember who wrote a book or piece of music or whatever first you called a friend you figured might know and then you called the NY Public Library where they used to would look up such stuff for you while you waited on the phone or if it took awhile, they'd call you back. You learned those sort of sources when you were an editor in New York City in those golden years of hand-crafted editing. Now all I do is Google the answer...and boom, there's my answer, no phone calls or further discussion necessary:
So, there, I was only one letter off John Fowles's name--Knowles is close enough for me.
But collector, obsessive compulsive, whatever you want to call me, I'm livin' the life I love, and lovin' the life I'm livin'.
I stole that off Mose Allison. Old Man Mose.
Mose Allison
still working the scene at 82 (here at the famous Ground Zero blues club in Clarksdale, Mississippi). Mose has a cool site:
www.moseallison.net/

My wife and I discovered Mose Allison when we lived in New Orleans. I came home one night with a Mose LP,
Creek Bank
, Prestige, 1958. I put it on the stereo and called her into the listening room and the first track was Muddy's (McKinley Morganfield) "The Seventh Son": "Everybody's talkin' 'bout the Seventh Son/In the whole 'round world there is only one/And I'm the one/Yes, I'm the one/I'm the one, I'm the one/The one they call the Seventh Son." After that track, my wife fell totally under Mose's spell--and Mose
was
an interesting jazz phenomenon. A white boy from Tippo, Mississippi, who had fallen under the spell of American Black music, especially the hardshell blues of the Delta he grew up surrounded by and baptized in. Mose played trumpet at first. Was in an army band for awhile then went to college and ended up with a degree in English and Philosophy. While in college, Mose started playing the piano and singing. His blues singing idol was the great Percy Mayfield--while his piano masters were Bud Powell and Lennie Tristano, whose style of playing got Mose interested in Bartok and Mose started seriously studying Bartok's and Hindemith's piano writings, which he incorporated in his Delta style of blues piano playing. Mose ended up a very hard-driving, hard-playing blues/jazz piano player. But you can take the boy out of the Delta, but you can't take the Delta out of the boy. That was Mose's approach to both his singing and his piano playing.
From
A Journey Through the Music of the American South
, Stanley Booth wrote:
"If you describe on a map a circle with its center at Moorhead, Mississippi, the place where the Southern crossed the Yellow Dog, lying within a hundred-mile radius are not only Como and Hernando, but also Red Banks, Helena, Lyon, Leland, Rolling Fork, Corinth, Ruleville, Greenville, Indianola, Bentonia, Macon, Eden Station, West Point, Tupelo, Tippo, Scott, Shelby, Meridian, Lake Cormorant, Houston, Belzoni, Bolton, Tunica, Yazoo City, Lambert, Vance, Burdett, and Clarksdale, whence come Gus Cannon, Roosevelt Sykes, Son House, Jimmy Reed, Muddy Waters, Fat Man Morrison, Charlie Patton, B.B. King, Albert King, Skip James, Bo Diddley, Emma Williams, Howlin' Wolf, Elvis Presley, Mose Allison, Big Bill Broonzy, Willie Brown, Jimmie Rodgers, Robert Johnson, Booker T. Washington White, Otis Spann, Bo Carter, James Cotton, Tommy McClennan, Jasper Love, Sunnyland Slim, Brother John Sellers, and John Lee Hooker. Also within this radius are Greenwood, where Furry Lewis was born, and Grenada, where John Hurt died."
So one night after my wife and I had moved to New York City, I saw that Mose was playing at The Top of the Gate (the second-floor club over Art D'Lugoff's great Greenwich Village club The Village Gate--and Art D'Lugoff just died last month--and old Art was a true lover of the art of jazz, and I really appreciate the many nights of jazz-lover joy I've spent at the Top of the Gate--the no-cover-charge one-drink minimum second-story prohibition-dive-type music room above the Gate--just a big upper room with a big long bar down one side, a one-step-up stage across the back wall, with the rest of the big room filled with tables and chairs and always people--jazz lovers packed the joint. A no-drink minimum at the bar where beer was like a buck a bottle and you could sit for hours sipping on dollar beers and enjoying some of the most innovative acts in jazz at that time--while down in the big room underneath the Top, the Village Gate, headline jazz acts were appearing).
My wife was really excited at getting to see Mose and she was wondering what he was going to do, who'd be playing with him (it was Nick Stabulus and Ronnie Free), stuff like that, as we made our way down to Bleecker Street and the Top of the Gate.
Once there, we got our favorite table, the one right up by the piano. We had been there a week or so back to see Jaki Byard and we sat at that same table where we'd sat right there by Jaki with me watching this genius working out through his hands at the Top's Steinway's keyboard. Wow, what a master of the piano Jaki was. At intermission I asked Jaki a question about a tune of his I knew and he was quite surprised that I knew the tune and sat and told us all about it--it was called "Denise"--how the tune was named after his daughter--and he'd written it while he was studying at the New England Conservatory in Boston--and I told him that's where I'd heard the tune, on Serge Chaloff's
Boston Blow Up
LP, and that set him off to talking about Serge Chaloff and what a crazy cat he was.
The master,
Jaki Byard
. Ended up getting shot in the head while sleeping in his Lower East Side apartment. No suspect was ever found, though some claimed it might have been one of his own, though probably it was simply a stray bullet that came through the apartment window and got Jaki right smack-dab in his brilliant head.
So there we were this night at the same table sitting right by the piano when Mose came out, looking dapper, still young, fresh, able, and he started playing and it was all the tunes my wife had hoped to hear--and he ended the first set with "My Mind Is On Vacation But My Mouth Is Working Overtime." As was my nature, after the set ended I called Mose over, shook hands with him, then introduced him to my wife and she shook hands with him and they talked a while. After Mose left the table and headed back to the green room for some "tenderleaf tea" I'm sure--you could smoke pot in green rooms at clubs in those days--in fact, you could do any kind of drugs in green rooms in those days--this is not to say Mose Allison went back to the green room to smoke some weed--I'm not saying that. I'm just saying he could have in those days. I should be careful; Mose is still with us (his daughter is Amy Allison, a singer)--so, no, I withdraw that statement.
Anyway, when we got home, I said, "Hey, baby, you got to see Mose. Great, right?" She wasn't at all excited. "What's wrong, Toots?" "Did you notice anything strange when you shook hands with him?" "Naw, nothin' unusual." "Oooooh. He gave me the willies. His hand was so clammy and he shook my hand as though he despised me." "C'mon, Toots, he's just an entertainer; he has to shake hands with all kinds of people a hundred times a night. Plus he'd just finished a set. I suppose his hands were hot and sweaty from playing--it's a hot racket, baby." "No, I know all that. It was something else. Something scarier than that about that man."
After that, my wife never again even mentioned Mose Allison. She lost all interest in his music. That often puzzled me. What in the hell did she sense in shaking hands with Mose Allison that so turned her off him? Ah women. How delightfully faraway on-the-other-side different they are, thank the gods, from men!
thegrowlingwolf
for
The 78 RPM Daily Growler
-----------------------------------------------------------------------
Speaking of Revolution

People are still "hoping" for President Obama to live up to the ideals they got from his campaigning for the presidency. As

The Daily Growler

has been saying over and over, there is no such thing as hope only faith in ourselves and right now we have no real faith in ourselves--in God, oh yes, we have such faith in God, but not ourselves. And, yes, we here at The Growler are tongue-in-cheek sometimes, but like any realist-approaching deliverer of opinions, there is much truth in how WE see the world in our most tongue-in-cheek deliverances.



thegrowlingwolf

is our principle spokesperson. He's our mascot, our brand, our main protagonist in the daily novel we're "playing" as though we are participating in the drama of every-day existence--and we believe as Will the Stage Actor said, the world is a stage and we are all performers on it. And think about that. The world is the platform on which we are all living out the same roles--in every society there are mixtures running the gamut from idiots to superego intellects--the sinister versus the truly good, though, as Leo Durocher so succinctly put it, the good end up last every damn time, no matter the degree of their goodness. Leo was a baseball manager and baseball managers say some from-out-of-left-field things that are so real they're scary. Here's some Leo Durocher quotes:


How you play the game is for college ball. When you're playing for money, winning is the only thing that matters.
You see. That goes for bankers and stock brokers and doctors and philosophers as well. Think about your own career. Weren't the people at the top the assholes who considered themselves the Winners! And weren't the gold medals they won as Winners the same gold medals you are striving for? It is about winners and losers. For every person who wins, there are many more who lose. We are all doing what we are doing to make MONEY!
Leo speaks again:
I never did say that you can't be a nice guy and win. I said that if I was playing third base and my mother rounded third with the winning run, I'd trip her up.



How Machiavellian is that? Corporate CEOs have these quotes hanging on their office walls.

Leo speaks again:


If you don't win, you're going to be fired. If you do win, you've only put off the day you're going to be fired.



Don't you think President Obama kind of feels this is true in his case, too?

Leo speaks again:


Win any way you can as long as you can get away with it.



You see baseball is a very American game. Winning is any way you can get away with it--certainly that's an American dream. Baseball is tough to cheat at, but it can be done and has been done.

You see sports are really still controlled by super big shot promoter types--big money boys who gamble a lot--George Steinbrenner owns race horses and used to before he got Alzheimer's go to the race track in Tampa every day. Gambling is a part of sports. You can gamble on baseball all over every town in the USA that has a Mafia in it. Everyone of any degree of success in New York City has his own personal bookie. Sports betting in Vegas is a billions-a-year industry. Baseball is hard to bet on. It's a matter of runs and 1/2 runs.

Hell, as long as we're passing around cliches, life is a gamble. Winning in life is when you have tons of money--your bank accounts are crammed; your investments are going through the roof; your pockets are overflowing.

It's like the stock market. Look at those gamblers.

The Daily Growler

stock market pundits have been telling you over and over for years that the stock market is controlled just as the gambling casinos are controlled--you get rich on the stock market by a matter dollar amounts--your stock goes up a dollar you sell immediately--the way you get wealthy first of all is by taking all your investable income and putting it all in one basket--that way, if your stock goes up just .50 and you own enough shares you'll have a nice daily income as a day trader--otherwise you need to form an investment pool with your best friends and relatives and in-laws and go into stock market gambling like the real players do, like the people who control state pension funds or union pension funds. The reason rich people are so against the government helping its citizens, like with free basic healthcare in this country, is because poor people, the average Americans, are LOSERS. Losers, like the Milwaukee Brewers and the Tampa Bay (ex-Devil) Rays in baseball, have to be supported by charity and charity is good as long as it's tax deductible.

Winning is the answer to all our problems. Winning, of course, however, is a very subjective concept. What's winning? Being rich? Then why aren't the rich ever satisfied? Why are they always taking risks? Because, like Leo said, winners to win have to take chances. They have to find ways to break the rules, to punch holes in the parameters. In baseball you can do it by maybe teaching your pitchers to throw spit balls or use fingernail files on the balls or a razor blade inserted in their belts so they can simply slice a small sort of unnoticeable slice in a ball near a seam and oh boy what dancing twisting loping wonders that ball will go through as it heads toward an anticipating batter.

President Obama is trying his best to be a winner in the American horse-race sense of the word. He's trying every trick in the book to be accepted by everyone as THEIR president, as THEIR commander-in-chief. He's failing and that's probably driving him nuts, though in the smoky backrooms, and Obama is a secret smoker, I'll bet you, he's wheeling and dealing with some of the shiftiest sons of bitches on the planet. Some of these shifty bastards have Obama's nuts in their hands and one twist.... Ah, but that's politics. It's an Academy award-winner's stage. All the senators and representatives and lobbyists are all multimillionaires--90%
of the Senate, I was reading the other day, are multimillionaires; something like 70% of Congress are at least millionaires. Like Nancy Pelosi is one rich babe--California real estate was her bag.

Speaking of filthy rich Congressmen, I was watching John Kerry at the Copenhagen Bullshit Climate Conference--and strange, you should ask, wouldn't you have thought that unsuccessful winning presidential candidate and Nobel Prize Winner Al "the Bore" Gore (and his own relative, Gore Vidal, says he's the boringest man he's ever been around) would have been in Copenhagen with his Global Warming films and charts and wouldn't he have given his big Nobel-Prize-winning lecture?...but no, it was John Kerry who was there leading our USA throwing-our-monkey-wrenches-into-the-works efforts in this evergoing-on controversy. The American winner doesn't believe WE are causing Global Warming. Remember, we believe we are divinely created in the image of what we call our God and God has control of our climate and if there are climate changes going on, they are God's way of showing us his only son is fixing to ride out of a huge bank of clouds on a big white horse. You see the dilemma we are in at the Copenhagen Bullshit Climate Conference?

John Kerry the ex-DA, the ex-poor-little-rich-boy who then lucked out and married the Heinz Ketchup fortune--his wife getting that fortune secondhand after she married old Charlie Heinz and then the son of a bitch died and left her the queen of the hop. And I looked at this multimillionaire screwball over there telling dirt-poor nation leaders, "Ah shucks, don't worry, we know what's best for you losers." Even the Global Warming contest is about winners and losers.

Did you ever stop and think what would happen if we all stopped gambling on our lives? Stopped buying insurance policies--you know, instead invest what you pay in premiums in land or fine art or collectible gold or silver (silver looks like a good investment to me) instead of making insurance companies richer than half the nations of the world. Insurance companies by the way don't get rich off premiums but on investing those premiums in real estate developments or mall projects, or perhaps a foreign money exchange scheme.



Advice From the Filthy Rich of the Past





Andrew Carnegie:




Concentrate your energies, your thoughts and your capital. The wise man puts all his eggs in one basket and watches the basket.
Concentration is my motto - first honesty, then industry, then concentration.
And old Andy is right about that, folks. Success in any game is through concentration.
Every act you have ever performed since the day you were born was performed because you wanted something.
Whooo, the old boy's on a roll.
I shall argue that strong men, conversely, know when to compromise and that all principles can be compromised to serve a greater principle.
Doesn't that sound like its from where Obama gets his politics? President Obama admits in his book that rich men impress him most. What Andy is saying is that a strong man (meaning a man of power--a rich man) can use compromising to get his uncompromising way. Brilliant the way you start reasoning once you're rich.
austinhighchew,
managing editor
for
The Daily Growler

World War III Progress Report:
Iran captures an Iraq oil well. Iraq sends troops to oil well. Hot damn, Iraq vs. Iran, the dream war. Remember when Pappy Bush backed his old pal Saddam Hussein in his decade-long war with Iran? Here we go again maybe. Remember, President Obama's strongest advisers are old Slick Willie Clinton and his best pal old Pappy "New World Order" Bush--experts in starting pure wars, like Clinton's getting us involved in Somalia, in the Balkans, in constantly bombing Iraq, in shooting missiles into Afghanistan; and, of course, Pappy Bush when he was commander-in-chief gave us our only "winning" war after WWII, the Persian Gulf Adventure (er-ah, we mean WAR). Remember that war was started when Pappy told his old pal Saddam Hussein it would be alright if he and his worn-out army invaded Kuwait to take back some oil wells Saddam said Kuwait stole from him (remember, Kuwait is a made-up country--made out of what once was Iraq territory.

How brilliant our machinating sons of bitching Power Elitists are when it comes to warmongering. The Senate, by the way, just approved the new WAR budget--it's billions and billions of more bucks for Ben Bernacke to print on his 24/7 money printing machines--it's actually trillions more bucks when you add up the military contracts and bullshit shit like that. For what we spend on WAR, we could turn the world into paradise! But, no, our GOD tells us the world is not paradise--oh no, paradise is off somewhere in some hidden space we will never be able to find unless we believe a little squatty weirdo Nazarene Jewish guy who "maybe" lived 2000 years ago--there's no record of him ever living and all his so-called "teachings" are by word of mouth--heresay--is the true son of the LIVING God! You see why Admiral Stockdale said there is no such thing as HOPE, only belief in yourself--

that's FAITH in yourself

and not some tom fool made-up Jewish god who the Jews don't even believe in.



thestaff


for

The Daily Growler