Foto by

tgw

, New York City 2011
--------------------------------------------------------------------------------------------------
Say Goodbye to:
Paul Motian (pronounced "Mo-tion")--
I knew Paul from his years with

Bill Evans

(1957-64), and he's on the greatest of Bill's 50s and 60s albums with the great

Scotty LaFaro

on bass. First time I remember Paul was with the Jerry Wald Orchestra (Bill Evans is the pianist). He's also on a lot of the great experimental albums of the 50s, with George Russell, with the

Don Elliott

albums (with Bill on piano, and my friend Tadd Kotick's father,

Teddy

Kotick

on bass). I lost track of Paul after Bill replaced him with

Larry Bunker

during Bill's time in California. He reappeared in my life in the

Charlie Haden

Liberation Orchestra. After the 60s, I'm sorry to say, my jazz appreciation had been boiled down to what I call "my taste" in jazz, losing track of Paul as he went on to perform right up until the time of his death. Paul, unfortunately, I remember, made an album on the music of Elton John--that was enough to turn me off of Paul (and I sadly admit that).
Paul Motian
, 80, American jazz drummer,
myelodysplastic syndrome.
Russ Garcia.
If you're asking, "Who?," just check this guy out. At 12 years of age he was arranging scores professional enough to have one of his scores performed by a symphony orchestra. He went on to work in Hollywood, wrote scores for movies like
The Time Machine
, etc. But also to be an important figure on the West Coast jazz scene. Russ worked with Louis Armstrong and Ella Fitzgerald--their
Porgie & Bess
album on Verve. His orchestra, too, made several jazz albums. Plus, Russ lived to be 95 years old.
Russell Garcia
, 95, American-born New Zealand composer. Russ was born in Oakland...why he's considered a New Zealand composer...ya got me.
---------------------------------------------------------------------------------------------------------
Thanks for What?
It is so funny to hear White people planning for Thanksgiving. Thanksgiving is a Christian holiday, one that justifies the European Whites who "landed" at Plymouth Rock--is the Plymouth Rock monumentalized in Plymouth, Mass., authentic? Probably not since everything about this White Man's USA is phony, from the get go. White invaders and occupiers only believe in equality among themselves--Whites have equal rights...others? Like, why would a Black family participate in Thanksgiving? I live in a building with Asians throughout--Chinese, Koreans, Vietnamese--I asked a Korean woman on the elevator the other day if she celebrated Thanksgiving and she replied that "they" had a similar holiday. I asked, but you guys take our Thanksgiving day off as a Holy Day, right? She replied that damn right they did. Funny how Christian Holy Days become just regular ole holidays to us--like Christmas--I've been using X-mas since I was a kid. The celebration of the birth of the fictional Jesus Christ (Joshua ben Joseph from a Nazareth slum) has become our biggest commercial (Atheistic) holiday of the year--how ironic is that? Muslims, Buddhists, Zoroastrians, et al., all take Christmas off; yet, are they given paid time off to celebrate their similar Holy Days?
Every year at Thanksgiving, the
The Daily Growler
joins with our own concentration-encamped aborigines in celebrating this time of year as a Day of Mourning! Aha! I like that, a national day of mourning, which White folks should get behind, too.
And look where these White men have taken us. What the hell do any of us in the USA have to be thankful for except for the fact we may still be alive and we may not be branded terrorist combatants and sent from this "Land of the Free" off to do some "pure" time in Guantanamo, a former US Naval training base now turned into a horror prison, ironically on the Island of Cuba in the Communist nation of Cuba under the dictatorial rule of the Castro brothers, with whom We the People of the USA have a 99-year lease deal with the Castro Brothers on Guantanamo--most of the civilian staff there are Cubans--it's income for the Cuban government--and back in the early days of Castro we castigated him for running his infamous prison on the Isle of Pines--why how dare this little Latin prick treat prisoners so meanly. The White man was pissed off at Castro for winning his revolution (his war of independence) and then "stealing" all of our large sugar refiners (Imperial, Domino) properties (nationalizing them) and "stealing" all that property in Habana from the US Mafia! Why, we even had a President assassinated over his handling of the Cuban Missile Crisis and the insane Bay of Pigs invasion. John F. Kennedy was his name. The national hero JFK of whom no one can speak evil even though he was a man who cheated on his wife with the mistress of the head of the Chicago mob,
Gilorma
(
Sam
)
Giancana
(remember how we made Sam's daughter a celeb?) while he was our darling president. A dude who had Mafia connections in Hollywood and Vegas through his father, Bootlegger Joe Kennedy, the good father who would bring his mistress, Gloria Swanson, home to the Boston mansion from Hollywood, bring her in through the front door, take her past his large family sitting at dinner in the mansion dining room, up the winding stairs to his private bedroom where he then began to bang Gloria like a Zeusian bull while down below his big family--under the eye of the sainted Mama Rose sitting there so nunly pristine--the passionate screams of Gloria getting fucked hard wafting down into that dining room. "Pay attention to your food, children, your father is simply doing business as usual," explained Mama Rose in her sweet soothing Catholic girl-school-proper voice.
Here's a cool scathing article on Thanksgiving in Native American history by Gilbert Mercier at News Junkie Post:
newsjunkiepost.com/2010/11/25/thanksgiving-celebrating-the-genocide-of-native-americans/
By the way, that butterball turkey you're chowing down on today--it's full of antibiotics and god-knows what kind of growth hormones--these ain't wild turkeys--and drinking a quart of Wild Turkey whiskey would probably be a healthier substitute.
thegrowlingwolf
for
The Daily Growler
A Little Taste of American Art:
Origins of the Killer Whale,
a drum head, acryllics on deer hide, by Alaska aboriginal artist,
Michael Dangeli
[See more drum art at
www.alaskanativeartists.com/drums.htm
From Space Weather.com: Here's what a solar plasma explosion into space looks like--this one not a threat to us--BUT! One never knows, do one?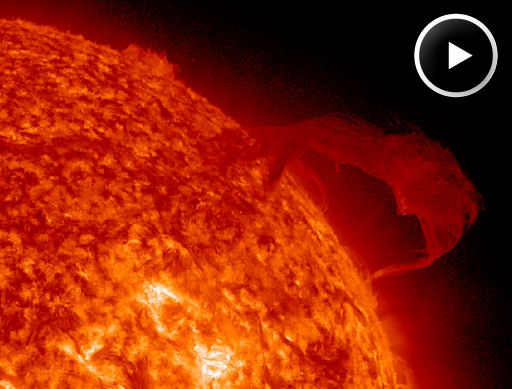 The eruption hurled a cloud of plasma (a "CME") into space but not toward Earth. Because of the blast site's high-northern location on the sun, the cloud flew up and out of the plane of the solar system; no planets will be affected.